As the Philippines is the world's third largest source of marine plastics, Filipinos have the power to make a huge difference to the health of the world's oceans. Some driven organizations in the country are intent on bringing about such change. One example is Sip PH, an environmentally conscious social entrepreneurship from Loyola Heights in Quezon City.
Sip PH was founded in 2016 by Mr. Pocholo "Poch" Espina. It grew out of Mr. Espina's search for a replacement for plastic straws, which are a prevalent source of plastic pollution and the third most-found item in Philippine coastal cleanups. Beginning with the promotion of plastic straw alternatives, Sip PH promotes the development of a circular economy in Loyola Heights which produces less waste.
Although Sip PH started small, and was initially only able to spread its message through social media and word of mouth, through the passion of its staff it was able to firmly establish itself, and in 2017 won PEMSEA's Small Grants Competition. Poch and the Sip PH team aim to persuade at least 70% of business establishments in Loyola Heights, Quezon City, to replace plastic straws with better alternatives by the end of 2018.
Together with PEMSEA, CORA, Clean Seas Pilipinas, and The Sustainable Planet, Sip PH supports a campaign known as "The Last Straw Katipunan", which focuses on establishments on the busy Katipunan Avenue. PEMSEA attended a community consultation by The Last Straw Katipunan on 2 July at the Ateneo de Manila University Escaler Hall. This event brought together stakeholders such as businesses, residents, and policy makers, with the aim of not only reducing plastic but getting ahead of the worldwide trend in plastic reductions.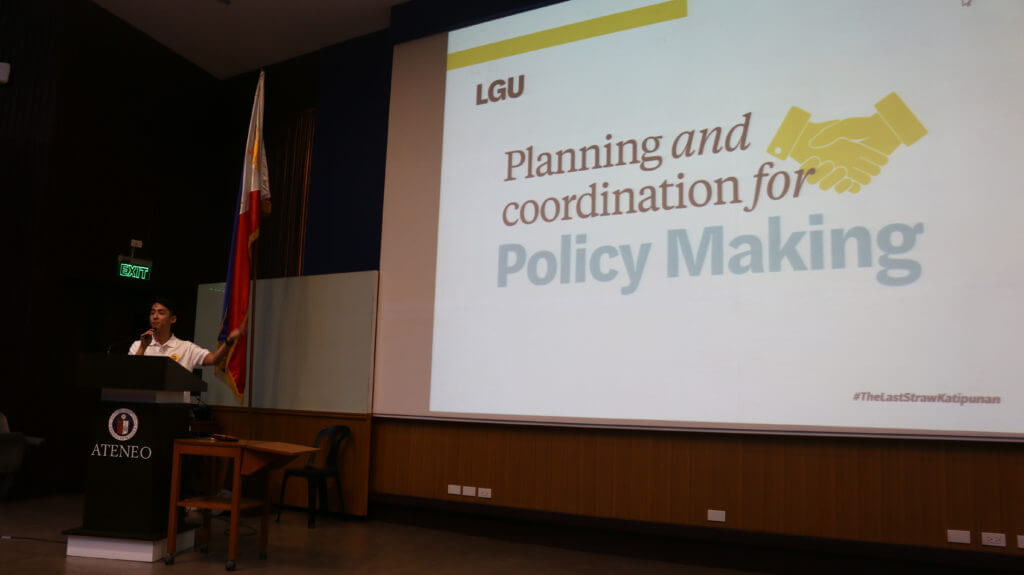 Mr. Pocholo "Poch" Espina speaking at the Last Straw Katipunan community consultation
Straws are a visible symbol of abundant plastic pollution. Poch and others hope that plastic straw waste can be eliminated and attitudes that cultivate the demand for these straws can be changed for the better. Eliminating straw could serve as the first step in creating sustainable solutions for the area. As part of this event,  they presented ways that businesses and residents benefitted from the program, and elicited feedback from attendees.
Poch and PEMSEA believe that such waste reduction initiatives can serve as replicable models that other communities can use to develop their own sustainable solutions. Poch will be attending the EAS Congress 2018 this November, where he will be sharing his story with attendees of the Fifth EAS Youth Forum. Sip PH is an example of the fact that impactful change does not have to come from vast national changes, but can begin from initiatives founded at the community, and even individual, level.