Maximiano Villanueva (left), administrator of the Imus City Composting Facility in Barangay Malagasang 1A, administers the mixing of agricultural waste.
Imagine yourself carrying a fashionable bayong (native market bag) for the charcoal briquettes you will buy, while briskly walking on a clean and green sidewalk made of eco-friendly bricks.
Then you harvest or buy organic vegetables grown in your community using compost as a soil enhancer.
This is how officials of the Provincial Government Environment and Natural Resources Office (PGENRO) of Cavite province imagine life should be in pursuing various programs to get rid of the province's burgeoning garbage problem.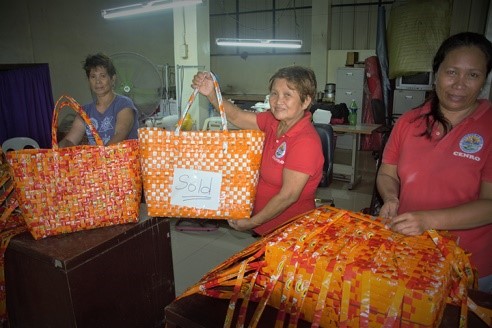 Employees of the city ecology center of Imus show bags made from recycled plastics.
Fortunately, PGENRO Anabelle L. Cayabyab, Cavite's top environment and natural resource official, said there are best practices in various local governments on proper solid-waste management.
Besides implementing integrated coastal management (ICM) anchored on "ridge-to-reef" environmental protection program, Cayabyab said proper solid-waste management is a major strategy in addressing the province's looming water crisis.
Pemsea ICM site
A parallel site for the ICM of the Partnerships in Environmental Management for the Seas of East Asia, Cavite province became an ICM site in 2004.
The program covers the province's nine coastal towns, providing a framework and process for Cavite to strengthen coastal governance, as well as the implementation of management programs to address the threats and challenges of unbridled development, land conversion, pollution from industrial, commercial and residential areas, illegal fishing and a growing population.
The ICM activities in Cavite include the development of long-term strategy, information management, awareness-raising and mobilizing stakeholders' support, development of coastal use-zoning plan to address multiple-use conflicts, marine-protected areas management, implementation of oil spill contingency plan and rehabilitation of major river systems.
As an ICM site, Cavite also became a part of Pemsea's Network of Local Governments (PNLG).
According to Cayabyab, during the PNLG meeting in Ansan, South Korea, Cavite, Gov. Jesus Crispin Remulla signed the Ansan Declaration, committing to work toward the achievement of the United Nations Sustainable Development Goals (SDG), particularly SDG 6, or "Ensuring availability and sustainable management of water and sanitation for all."
Looming water crisis
Interviewed by the BusinessMirror recently, Cayabyab said a 2012 study on water supply availability in Cavite revealed that by 2020, or two years from now, the province, with its current population of 3.9 million, will experience severe water shortage, estimated to reach by as much as 51 million liters per day.
"Water and sanitation has been Governor Remulla's topmost priority.  All our programs are focused on addressing the water problem," Cayabyab said in mixed English and Filipino.
According to Cayabyab, another study revealed high fecal coliform level in coastal areas despite years of coastal cleanups and relocation of informal settlers.
"Pollution comes from upstream. There are six major rivers in Cavite and we are monitoring them now," she said.
According to Cayabyab, of the 10 companies that offer septic-tank cleaning service operating in Cavite, only Maynilad has its own wastewater-treatment facility, as well as adequate health and sanitary permit or accreditation from the Department of Health.
"The rest have no wastewater-treatment facility and we have proof that they are dumping the sludge in the river upstream," Cayabyab said.
Worse, she said septic tanks in the old days were built with no concrete to prevent leak that contaminate groundwater.
"When met with the LGUs [local government units], we informed them of the problem and we also warned them against issuing [building] permits [without proper septic tanks]," she said.
According to Cayabyab, the Cavite government had also advised LGUs to tighten their watch over junk shops that buy and sell home appliances and other e-waste that require proper handling as mandated for by Republic Act 6969, or the Toxic Substances and Hazardous and Nuclear Waste Control Act of 1990.
She said the provincial government supports local government initiatives to address the garbage problem, whether they require financial or technical support.
"Fortunately, we have LGUs with best practices, which we can promote as model for replication," she added.
Model LGU
One such LGU with best practices on solid-waste management is Imus City.
The city has blazed the trail in finding eco-friendly solutions to the city's garbage problems, particularly plastic and biodegradable waste.
Under the mantra "May Pera sa Basura [There is money in waste]," Imus has endeavored to make the 3Rs—Reduce, Reuse and Recycle—of solid-waste management work.
The city is currently producing bags and wallets from recycled plastics, which it sells from P50 to P150. It also produces charcoal briquettes made from coconut shell, twigs and dried leaves that produce less smoke and more heat in cooking, and sold for only P35 per pack, or three for P100.
To rid the city's plastic waste, it also makes eco-bricks, made of shredded plastics mixed with cement that it sells for P12 a piece.
The local government is also producing vermicompost and compost soil enhancers from food waste and other biodegradables collected from households and public markets, which it distributes for free to farmers and the community for backyard or urban farming and gardening.
Top waste producer
With its population of 403,785 based on a 2015 census, Imus is besieged by environmental problems associated with unbridled development—garbage.
The indiscriminate dumping of garbage and poor collection and hauling system was a major problem until the local government started implementing various programs and introduced environment-friendly solutions.
Doris L. Sagenes, supervising environmental management specialist of Imus, said until now, waste segregation remains a big challenge.
"The people are accustomed to just throwing away garbage," she told the BusinessMirror in a recent interview.
She said the city environment office implements information, education and communication campaigns in various day-care centers and schools, to educate the young about the importance of proper solid-waste management.
Also, the owners and managers of various business establishments, she said, undergo seminar and training on proper solid-waste management.
"Before we issue a [business] permit, they have to undergo seminar and training," she said.
According to Sagenes, Imus is currently producing 200 tons of garbage a day. Based on the latest waste characterization and analysis, Imus's garbage is composed of 27.2 percent recyclable, 36.78 percent biodegradable; 21.93 percent residual, 13.99 percent plastic and Styrofoam, and 0.10 percent toxic and hazardous waste.
Plastic waste
Imus is besieged by plastic pollution. To address this concern, the city government maximized the use of the city's Ecology Center in Barangay Buhay na Tubig.
The ecology center does training on composting, organic farming and gardening, recycling waste and rainwater harvesting system.
A major initiative of the city environment office is the implementation of the "Basura Raffle" project, wherein people bring to the barangays in exchange of raffle tickets the plastic waste, which junk shops do not buy.
"One kilogram of plastics earn them one raffle ticket. They get the chance to win raffle prizes like an electric fan or rice cooker," she said.
According to Sagenes, through the project, the environment office is able to collect 1.5 tons of plastic a month, which they bring to the Villar Foundation to be recycled into school chairs.
So far, Imus's partnership with the Villar Foundation has yielded 300 chairs of recycled plastics.
Imus City is also known for producing eco-bricks, part of which is made from plastics, made in partnership with Clean Technology.
Some of the eco-bricks were used as paving blocks for the repair of sidewalks in front of the city hall, the city plaza, in Barangay Anabu and Nueno Avenue.
Agricultural, kitchen wastes
To rid the city of another major waste problem—the biodegradable waste from public markets and kitchen waste from households—it has established a composting facility along Pedro Reyes Street in Barangay Malagasang 1A.
During a site visit, environment office employees showed the city's 2,300-square-meter facility and explained the process of producing compost.
It also has three bioreactor machines that act as digester for various agricultural waste collected from public markets and food waste from households.
"It is able to serve two clustered barangays. We receive an average of 6 tons of vegetable and food waste a week," said Maximiano Villanueva, administrator of the composting facility.
According to Villanueva, several steps are followed to make compost for effective soil enhancers. The vegetables from the market are shredded and digested using the bioreactor. After three days, the byproduct is applied with effective microorganism and dried in open air.
The vegetables are shredded and dried anew. Without a bioreactor, the process will take three months, at least.
The kitchen and food wastes undergo almost the same process, except that sawdust are added to boost the drying process. The byproduct is dried and shredded anew before packing for distribution.
"We distribute them for free. Sometimes, the demand for compost is big, maybe because it is free and it works," Villanueva said in mixed English and Filipino.
Solid-waste dilemma
In a recent interview with OIC Antonio Bernan T. de la Cruz of the Community Environment and Natural Resources Office, he said garbage is a major cause of water pollution in Imus.
"We conduct IEC information, education and communication campaign. From time to time, from January to December, we implement IEC campaign to inform the people about our programs," he said.
He said Imus City, under Mayor Emmanuel L. Maliksi, is determined to boost the implementation of the city's eco-friendly solutions.
"We have identified three possible sites for composting facility. By next year, we are eyeing to put up one facility in Pasong Buwaya.  It can accommodate three to four clustered barangays. Hopefully, in the next three years, we will be able to accommodate all 97 barangays in Imus," he said. The city's barangays are clustered into nine groups.
According to de la Cruz, he is proposing the formation of cooperatives in every barangay to engage the communities more and become part of the solution.
"Just like our 'Basura Eskwela' initiative, through a cooperative, parents can gain something from recycling. From garbage to money.  Pera sa basura," he said.
He said once the cooperative grows from waste recycling, they could start to try other livelihood activities.
"There will be profit sharing and they can also start their own livelihood program," he said.
"Although there are existing and active cooperatives in some barangays, we plan to tie up with them. It will be like an ecological cooperative working to address our garbage problem," he said.
Published in Business Mirror.