In Photo: A hidden cove in Naic, Cavite
Through "watershed approach," the Cavite State University (CvSU) is finding a "holistic solution" to the environmental problems besetting the coastal and marine areas in Cavite province.
One of the most industrialized and fastest-growing provinces in the Philippines, Cavite is besieged with a looming water crisis.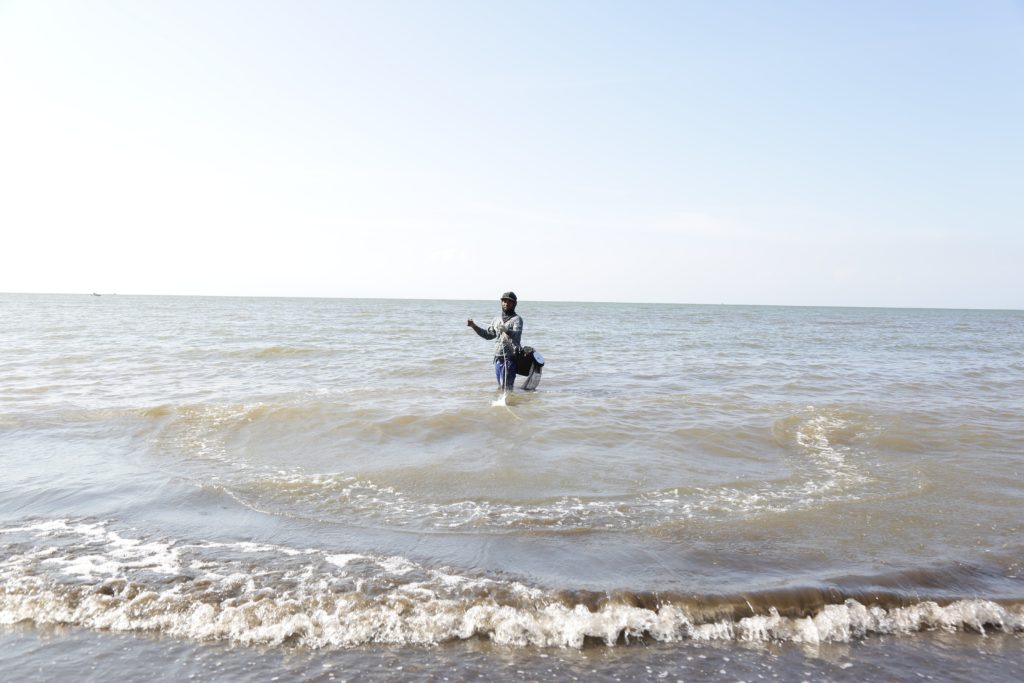 A fisherman tries his luck in Barangay Labac, Naic, Cavite
The coastal areas of Cavite are part of Partnerships in Environmental Management for the Seas of East Asia's integrated coastal management program since 2004.
Besides pollution, excessive groundwater extraction and saltwater intrusion pose a serious threat to the province's limited freshwater supply.
To address the problem, CvSU—through its Department of Forestry and Environmental Science, College of Agriculture, Food, Environment, and Natural Resources (CAFENR-DFES)—has decided to use the watershed approach in diagnosing the problems and finding viable solutions to the multifaceted problems related to water management.
CvSU's research and development experts provide the Department of Environment and Natural Resources (DENR) with potential programs or projects to conserve the province's dwindling freshwater resources, beginning with its major river systems.
"Our department is using the watershed approach in dealing with environmental problems; in finding solutions to environmental problems," Prof. Noel Sedigo, chairman of CvSU's CAFENR-DFES, said in an interview at the CvSU grounds recently.
'Coastal governance'
Since 2004, Cavite has been an integrated coastal management (ICM) site of Partnerships in Environmental Management for the Seas of East Asia (PEMSEA). The ICM program initially covered eight coastal municipalities and one city spanning the province's 85-kilometer coastline.
PEMSEA is an international organization created to foster and sustain healthy and resilient coasts and oceans, communities and economies across the seas of East Asia through integrated management solutions and partnerships.
Highlighting the milestone in implementing the ICM program in Cavite, PEMSEA reported in its web site that ICM Councils and ICM coordinators have been established and designated, respectively in Cavite's nine coastal towns.
Moreover, since 2004, local government officials and relevant stakeholders have participated in PEMSEA's ICM and specialized training program.
"The ICM program has provided a framework and process for Cavite to strengthen coastal governance, as well as the implementation of management programs to address the threats and challenges of uncontrolled development, land conversion, pollution from industrial, commercial and residential areas, illegal fishing and a growing population," it said.
Incidentally, Cavite's experience will be highlighted during the East Asian Seas Congress 2018 to be held at the Iloilo Convention Center from November 27 to 30. The congress will celebrate the 25 years of partnerships for healthy oceans, people and economies in East Asia.
What is a watershed?
A natural delineation in the environment, a watershed is generally defined as an area of land that feeds all the water running under it and draining off, through its river systems, into a larger body of water—in the case of Cavite, it is Manila Bay.
Cavite nine coastal areas are Ternate, Maragondon, Naic, Tanza, Rosario, Noveleta, Kawit, Cavite City and Bacoor City.
Its coastline stretches a total of 122.57 km with around 93,678.38 hectares total area of coastal water.
To delineate the watersheds, CvSU used a geographic information system (GIS), which is designed to capture, store, manipulate, analyze, manage and present spatial or geographic data.
"Using our Digital Elevation Model, we were able to identify the high and low points in a watershed and learn where the water drains," Sedigo said.
All the communities inside the watershed, barangay, cities or municipalities, are part of a watershed.
Watershed approach
"In the watershed approach, the problems are diagnosed through the water pollution of a particular river or waste dumping, or sewerage of untreated wastewater that drains into the river. So we used that quality as an indicator to study the problems in a watershed," he explained.
According to Sedigo, various problems that affect water resource can be caused by development plans of local governments or even by a barangay within the watershed.
"Every plan, every activity like the construction of a factory, a mall or a settlement area would contribute to the problems of a watershed. All of these can be detected through the watershed approach—biological, physical, socioeconomic and cultural problem," he said.
"And using the watershed approach, you can come up with a holistic solution," he said.
Sedigo said a river system in Cavite has been declared a water-quality assessment area, which was an idea of the DENR's Environmental Management Bureau. This led to the declaration of the river system as a Water Quality Management Area (WQMA).
Once declared a WQMA, a water body undergoes a strict management regime with the formation of a WQMA Board composed of the DENR, concerned LGUs, representatives of other concerned national government agencies and other stakeholders, such as scientific community, academe, nongovernment organizations and community-based organizations.
Partnerships
CvSU has established a strong partnership with the provincial government of Cavite. Sedigo said the reason for this is that one of Gov. Jesus Crispin C. Remulla's top priorities is water management.
"We [now] have a partnership with the provincial government and the DENR. Now we have three institutions working on watershed management. It started, I think, as part of the declaration during the Water Summit held here in Cavite, which is jointly sponsored by the province, the DENR and PEMSEA," Sedigo said.
ICM project
"We came to know it only in 2013 or 2014, when we joined the water summit. The water summit was our first activity with PEMSEA, the provincial government [of Cavite] and DENR," he said.
The collaboration between CvSU and DENR continues, particularly in terms of biophysical characterization and assessment, in the crafting of Integrated Watershed Management Plan in a watershed in Cavite, wherein the watershed approach, similar to the methodology of CvSU, is used.
"So when I collaborated with DENR, we used the methodology that is common to us. I think one is DENR DAO [DENR Administrative Order]-2008 on how to conduct a biophysical and vulnerability assessment for a watershed. That is a DENR methodology," Sedigo said.
In the academe, he explained, various methodologies are used but they found the DENR methodology on the integrated watershed management and watershed approach to be ideal.
"CvSU, PGenro [Provincial Government Environment Natural Resource Office] and PEMSEA, which also has water-related projects, decided to work together to strengthen the partnership. All these were borne out of the problems in Cavite, which, we feel, will be facing a water crisis.
"Since 1982, then 1989, 1991, 1995 until in 2005, there were studies by Japan International Cooperation Agency, which conducted groundwater assessment studies," he said.
Depleted groundwater
In Cavite, 96 percent of water comes from groundwater and only 4 percent is from rain and surface water.
In 1991 groundwater decreased at an average of 1 meter to 1.5 meters a year and worse in some areas, with about 10 meters to 15 meters.
"In our department, we decided to concentrate on the water problem. But when you talk about the water problem, it leads to the watershed, and the problems are interlinked—from water to solid waste management to the sewage system. Then you have also development plans [to look into], you convert forestlands into economic zones. These are problems that are linked to one another and we thought a watershed approach can capture everything," Sedigo added.
Watershed management
"We decided that by coming up with that watershed management plan, which would have to be very thorough, we can manage our watershed well," he said.
According to Sedigo, the difficulty with the watershed approach is that it would involve several municipalities and cities covered by the boundaries of a watershed.
"In our studies, we could see cities and municipalities were covered by a river system or watershed in Cavite. In one watershed, with Cavite's ballooning population currently pegged at 4.2 million brought about by the industrialization of the province in the last several decades, almost 500,000 people are within a watershed," he said.
"If you have half a million or 1 million people living in one small area, you will have all sorts of environmental problems, such as waste management, sewerage, all leading to or related to water pollution," he lamented.
Information sharing
Unfortunately, Sedigo noted, some of their studies were done as early as the 1990s and are all piled up in the library.
"The good thing is, when we partnered with the provincial government and PEMSEA, we were able to share our studies and PEMSEA created the Integrated Information Management System."
Through a databank established by PEMSEA together with the province and CvSU, the partners were able to share these studies.
"We have studies covering 23 cities and municipalities in Cavite. We have the database and we have environmental indicators used by PEMSEA and the province, covering air, land, water. It's all in the database," he said.
Moving forward
Currently, Sedigo said CvSU has a three-year memorandum of agreement with PEMSEA.
"We are just on our second year. It is a shared project. They provide training, we also have some staff who have attended training with PEMSEA," he said.
CvSU, the DENR and PEMSEA recently held a groundbreaking of a soil-water testing laboratory.
"We have talked to the governor [who considers] water quality [testing] very important, and, of course, very expensive. Although the Department of Science and Technology is also here with its own water-testing laboratory, the governor wants to put up a separate water-testing laboratory in the province for purpose of water quality monitoring," he said.
Under the partnership, PEMSEA will help find funding support for the project and CvSU will donate the land, about 500 sq m.
The groundbreaking was held last July; the facility will be constructed in 2019.
"It will be a laboratory where water analysis, everything, can be done. It will also be income-generating because it can accept water-testing services. The earnings will go to a fund that will be used for more research," he shared.
"We provided the land, we will provide the personnel and the equipment. The building, costing about P300 million, will be their responsibility," he added.
Based on the partnership agreement, PEMSEA will conduct the training. Somebody was already sent to South Korea for training on water testing sponsored by PEMSEA.
CvSU is also pursuing various studies related to solid waste management and the protection and conservation of the coastal and marine environment, as well as endangered wildlife by finding holistic solutions and preventing potentially bigger problems.
A fisherman tries his luck in Barangay Labac, Naic, Cavite. The coastal areas of Cavite are part of Partnerships in Environmental Management for the Seas of East Asia's integrated coastal management program since 2004.
Published in Business Mirror.